Our homes are our cradles, now more than ever. With the global pandemic continuing to affect and restrict us, our homes will continue to shape our livelihoods and impact our wellbeing. But as the world changes rapidly around us, with new technologies and energy-hungry devices entering our dwellings, some questions keep us up at night: Is my home safe? Is it comfortable to live in? Why is my energy bill going up? Is my home sustainable?
The world is not flat when it comes to challenges. As Australia and the US grapple with resilience to atypical weather conditions (with abnormally hot weather scorching the US Southwest or freezing infrastructure in Texas), Southeast Asia wants to keep residents cool in the ever-rising heat. For the UK, it's energy efficiency, with energy going 'out of the window' quite literally due to poor insulation.
Fortunately, digitalization provides us with reasons to be optimistic. A new generation of smart and digital technologies are poised to help enhance our homes in terms of cost and efficiency, while improving our lifestyles through comfort and positive health outcomes. In parallel, digitization also provides us with an opportunity to accelerate our energy transition to renewable sources, achieving a major victory for sustainability and the environment.
In this blog I explain why 'smart' is important for our future when it comes to sustainable homes, and how we can accelerate its adoption.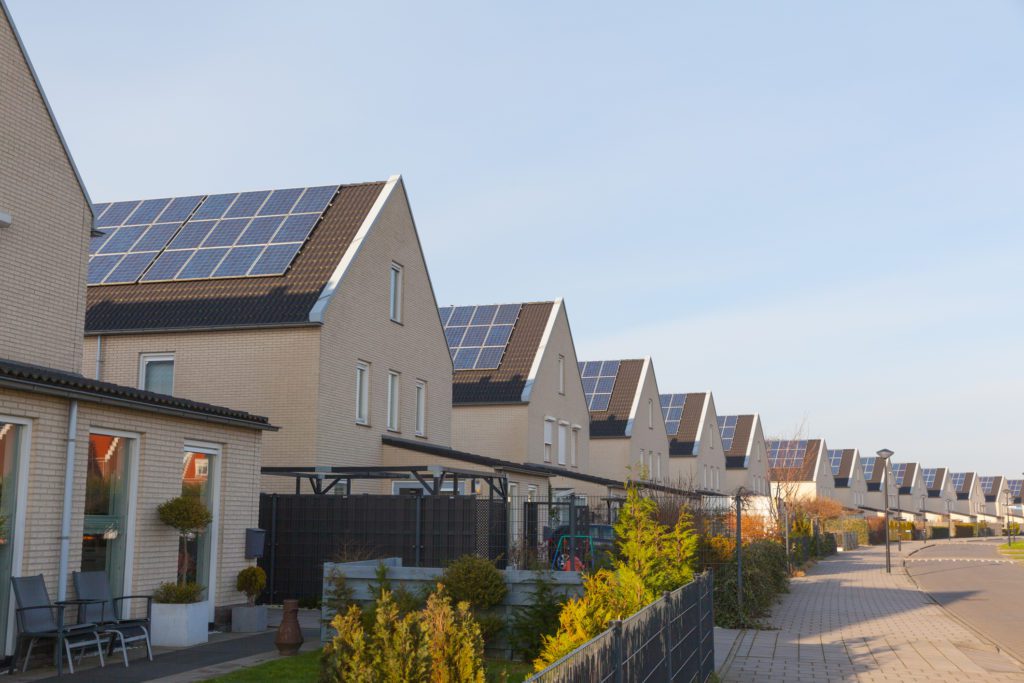 Home is where the smart is
It all starts with home automation. We've seen the first stage of digitalization with global penetration of smart homes reaching 12.2% in 2021, though the rate of adoption varies from low single digit in some countries to a sizeable number in the US. While there is so much more room to grow, the smart home category already gives us a platform to make our homes more sustainable – through electrification and home energy management.
Why is home energy management so important though? Homes contribute around 34%  of total greenhouse gas emissions  – indirect household emissions could represent as much as 80%. At the same time, homes are becoming even more electrified, with new loads – including electric vehicles (EVs), electric central heating and cooking – growing rapidly. COVID-19 has radically changed energy consumption patterns for many of us, as we virtually consume most of the energy at home, and at set hours, rather than in different places over the course of the day.
The installation of IoT-enabled sensors and devices in homes allow owners and occupants to gain a deep understanding of their energy usage – especially when all of this information is simplified by software and communicated through a handy energy management app on their smartphone. As a result, they can take well-informed steps to reduce their energy consumption without impacting their lifestyle.
The presence of smart and sustainable home solutions can also empower homeowners to make the best use of domestic-scale renewable energy generation and battery storage technologies. Such 'Prosumers' are already generating electricity from rooftop solar panels or small-scale wind turbines, storing this power for later use when the wind isn't blowing or the sun isn't shining, or selling the excess power back to the grid.
Electric grids around the world are becoming smarter and more autonomous to cater to this dramatic decentralization and peak demand growth, but this is not a one-way street. Sustainable homes must play a big part in enabling smarter grids, and digitalization is the only way to make this happen.
Change is a good thing – show them
Digitalization will help to make our homes cleaner and more environmentally friendly. But we know well enough that for any tech adoption to succeed, the customer has to see real value being delivered.
Comfort, convenience, and cost come top of mind when we think of smart home, such as the benefit of lowering energy bills. However, the most striking benefits may not be these 3 'C's. For example, we are already seeing a rapid adoption of solar and storage in markets like the US, targeting home resilience, keeping the home connected and powered up even in case of weather-related grid outages. In today's digitally enabled world, uninterrupted power is truly priceless.
Companies should make smart, sustainable home technologies easier and more intuitive for consumers to use, which is the only way to accelerate adoption and deliver an end-to-end experience. But does that mean homeowners have to upgrade all their home appliances and gadgets to smart and connected? Not really. In the all-electric world, even if the appliances are not smart (or IoT-enabled), they can still be controlled, and their energy needs managed, at the electrical panel (AKA distribution board or breaker board) level. We have just 9 years to reduce our emissions by half, as a first step to reach our net zero goals of 2050. We must empower people to live their lives safely and without impacting their lifestyles. To achieve these goals we must innovate to develop new products and continue improving them based on real-time customer insights.
Our homes must improve our lives, not complicate or compromise them. My hope is that in the coming years our homes will become more sustainable, people-centric, more resilient, and more efficient. Each one, wherever in the world it's located, catering to the individual needs of its occupants. Smart homes truly deliver when it comes to our electrical and physical safety, as well as our comfort, all while playing a central role in combatting climate change through dramatically reduced emissions. Smart and sustainable homes, generating their own renewable energy, will become the edge of the sentient grids of the future, delivering sustainable outcomes for people and our planet. After all, this planet is our home, too.