Since ancient times, transportation has played an important role in connecting cultures, sharing knowledge, and building economic prosperity. A fundamental piece in the growth of civilizations, transportation has evolved to become a global industry that today is worth billions of dollars.
But despite all the growth which has happened within the sector, there is still more to come. Across rail, road, and air, digital technologies are being deployed to make the transportation sector safer, greener, more user-friendly, and more efficient.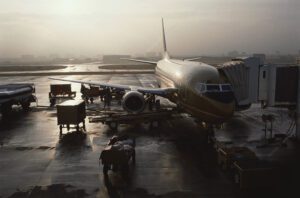 Transportation systems at the Edge
From combustion engines to electric powertrains and from passive traffic signals to predictive and agile systems, the transportation sector is integrating technology to become a more efficient and customer-focused business.
Putting the customer first, the sector is using data and technology to build trust, transparency, and connection. This represents the most significant change impacting the sector – Edge assisted technologies.
Whether it be for road users, airports or rail, transportation agencies are using technologies to count traffic, detect crashes, collect tolls and fares, and manage transit operations and traffic signal systems. Some of the improvements which rely upon Edge technologies include:
Automatic baggage handling. Edge technologies can be used to control, automate, and provide full visibility of customer baggage and boarding bridge processes in airports. This ensures customer satisfaction and safeguards revenue against additional baggage transportation.
Toll Collection. Remote sites require autonomous systems to guard against network and system failures which can result in revenue loss. Edge technologies can deliver the outcome with limited or passive network availability to the central systems.
Traffic Signal Management. Micro-Edge computing operates traffic signals and can dynamically change the signal patterns based on the data received from the remote data centres. On-premises computing can help autonomous operation in the event of network failure.
Transport Hubs. Customer centric applications using Edge technologies in the transport hubs include ticketing, arrival/departure timings for customers, and digital signage application.
Infrastructure Deployment. Secure infrastructure and uninterrupted power are essential for all transportation sectors. Ensuring safe, secure power maximises uptime and improves profitability and customer outcomes.
Reducing carbon footprint: Operational efficiency, harnessing the power of Edge technology systems, is essential as airports, transport hubs, and road users work towards reaching carbon neutrality.
Intelligent Transportation System (ITS). An advanced application which aims to provide innovative services relating to different modes of transport and traffic management, an ITS enables users to be better informed and make safer, more coordinated, and 'smarter' use of transport networks. Some of these technologies include:

calling for emergency services when an accident occurs
using cameras to enforce traffic laws
operating signs that mark speed limit changes depending on conditions.

Integrated Boarder Control Systems. Edge technology can be used to navigate the challenges of streamlining border checkpoints for legitimate visitors and citizens, while securing entry points against unwanted players. The solution covers identity verification, fast access, fraud detection, and information security.
Passenger Transit Rail Solutions. A suite of Edge technologies can be used to make rail transit more user-friendly for passengers, including information kiosks, real-time travel data, wayfinding, and passenger movement analytics to enable better decision making.
Solutions across the transport sector
At Schneider Electric, we offer solutions for all transportation IT requirements, from controlled IT rooms to rugged environments. Our diverse product range of racks, power, cooling, and monitoring is incorporated into:
Our Netbotz range of products offers security for Edge deployment – from environmental sensing, including temperature and humidity in the rack, to identifying unauthorised access with door sensors and cameras.
To enable convenient and integrated management of Edge deployments, we offer EcoStruxure solutions. EcoStruxure is Schneider Electric's IoT-enabled, open architecture that creates collaborative environments with connected products. EcoStruxure allows your systems to seamlessly connect, collect, analyse, and act on data in real-time – from the design phase right through to predictive maintenance. Schneider Electric also offers a variety of services, including monitoring, dispatch, and life cycle management.
For more information visit se.com/au